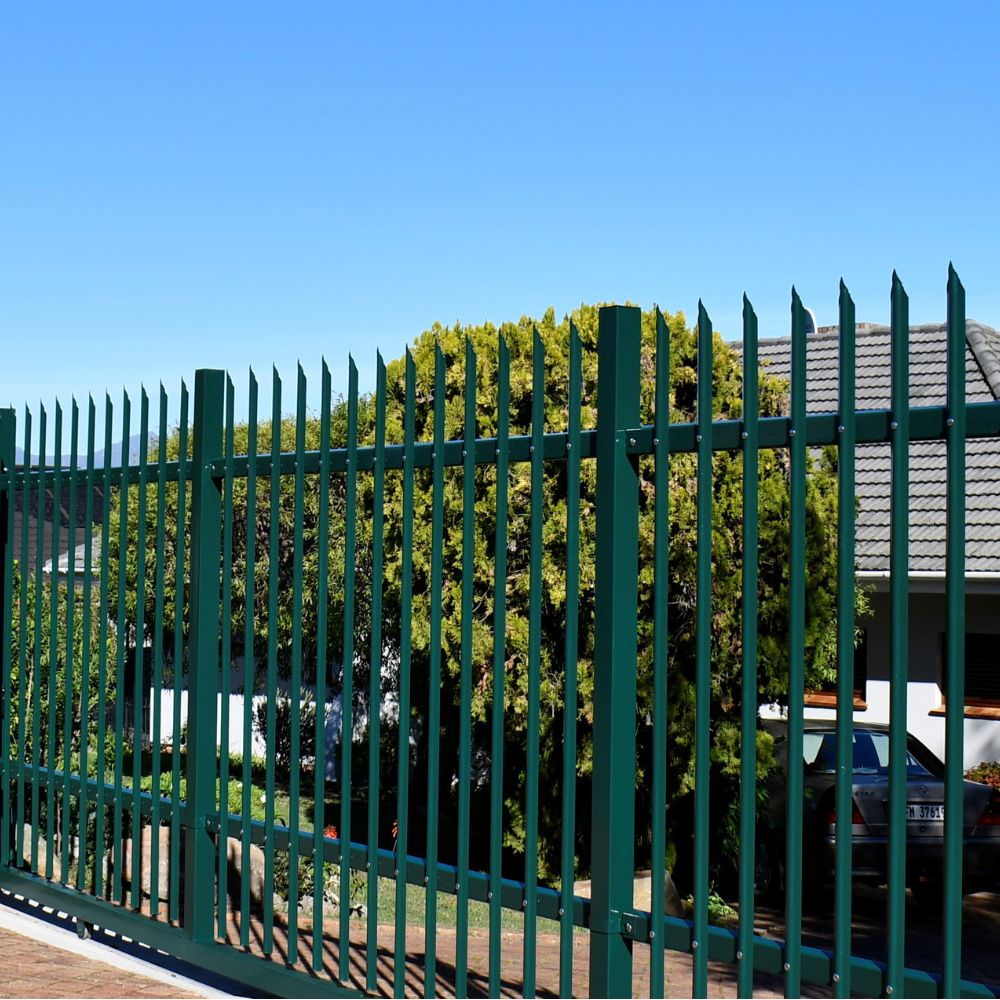 Palisade Fence Panel (3000mm x 1150mm)
Sale price
R 2,094.75
Regular price
Elevate your property security and aesthetics with Betafence Palisade Fence. The palisade fence is offered in three heights: 1.15m, 1.75m and 2,05m. The palisade posts serve as the sturdy backbone of your palisade fence, anchoring it firmly in place. Our Palisade is precisely crafted to withstand the test of time and weather. The galvanized coating acts as a shield against rust, while the powder coating adds a layer of visual appeal. It is an supreme choice of fencing for both residential and commercial applications.
We ship throughout South Africa
DESCRIPTION

SPECIFICATIONS 

BENEFITS
Introducing the Palisade Fence Panel (3000mm x 1150mm) by Betafence, a robust and reliable fencing solution designed to provide unparalleled security for your property. Our Palisade fencing range is specifically tailored for inland areas, offering a combination of strength, durability, and a distinct visual deterrent.
Unrivaled Security for Inland Areas
Betafence's Palisade Fence Panel is the epitome of security for inland areas. Engineered to withstand the unique challenges posed by different environments, this fencing solution excels in providing a formidable barrier around your property.
Premium Materials for Longevity
Crafted with precision, each Palisade fence panel is pre-galvanized and powder-coated to ensure optimal protection against corrosion and the elements. This dual-layered treatment not only enhances the longevity of the panel but also adds a sleek and polished finish, elevating the aesthetics of your property.
Innovative Design for Effective Security
The Palisade fence system is ingeniously constructed, featuring individual vertical pales securely attached to horizontal rails. This design not only enhances the structural integrity of the fence but also serves as a visual deterrent, deterring potential intruders and reinforcing the security of your property.
Customizable Dimensions
The Palisade Fence Panel (3000mm x 1150mm) offers generous dimensions, providing comprehensive coverage for your property. This size ensures that your fencing solution is not only effective but also visually imposing, sending a clear message of security and control.
Easy Installation for Your Convenience
Ease of installation is a priority in our design. The Palisade Fence Panel is engineered for straightforward assembly, making it a practical choice for property owners, contractors, and DIY enthusiasts alike. This user-friendly approach ensures that your fencing solution is up and running efficiently.
Elevate Your Property's Security
Investing in the Palisade Fence Panel by Betafence means prioritizing security without compromising on aesthetics. Secure your property with a fencing solution that not only protects but also enhances the overall appeal of your space.
Panel Width: 3m

Weight: 31.95 KG

Pales: 50 mm x 1.6 mm | 19 pales per panel

Bearers: 3 m wide

Powder coated | Available in three colours: white, green, charcoal
Brackets are sold separately : 1 x post requires 2 x intermediate clamps
For every corner area : 2 x corner clamps and; 1 x end bracket is
required. This is dependent on if there is a gate required and where the gate is positioned.

It's always a good idea to consult with Betafence professionals to ensure the fence meets any relevant safety standards.
Pales are roll-formed with a stiffened center rib for added strength and aesthetics. 

Easy Installation 

Pales are fixed to horizontal bearers with stainless steel cup square bolts and shear-off nuts which makes the system strong and tamper-proof.

All bearers are formed for strength and eliminates water being trapped because of bent sections.

Easy installation of palisade fencing where the

Pales are attached to the vertical tubes.

Requires no drilling Required


Gates required upon request to suit.