News
Metal Fences: The Future Of Fencing
Jul 19, 2022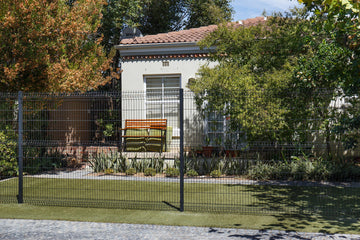 While wooden fences have been one of the most popular choices for decades (mostly because of their classic style and the fact that timber is easy to obtain), the popularity of metal fences have been steadily on the rise, and they could very well be the future of fencing.
As suppliers of EasyView fence posts and panels, we'll look at some of the many benefits that metal fencing offers over other popular fencing materials.
Maintenance Requirements
Before you make any sort of investment, you should always consider the maintenance required.
| | |
| --- | --- |
| Timber | Wood has the tendency to fade, crack and even rot as it ages. Timber requires regular maintenance in the form of repairs and painting. |
| Concrete | Concrete is relatively easy to maintain so long as it is sealed correctly. |
| Metal | Metal fencing requires almost zero maintenance. A good quality metal fence will essentially be maintenance-free. |
Sustainability
In this day and age, it is every homeowner and business owner's responsibility to make sustainable choices.
| | |
| --- | --- |
| Timber | It is certainly possible to source timber in a sustainable manner, but the chemicals that are used to treat wood can often be damaging to the environment. |
| Concrete | The production of concrete has a negative impact on the environment as the process produces a large amount of CO2 emissions. |
| Metal | Metal is a sustainable material as it can be recycled over and over again, and the production process is not that heavy on the environment. |
Durability
How long can you expect your fence to last? The below are just estimates and will depend on the type of fence as well as how well you maintain your fence.
| | |
| --- | --- |
| Timber | 5 to 10 years |
| Concrete | As long as 20 years |
| Metal | Up to 25 years |
The Importance of PVC-Coated Metal Fencing
Metal fencing is only durable and anti-corrosive if it has been properly coated. Without PVC coating or other specialised coatings, your metal fence could rust and start deteriorating very quickly. That is why the EasyView fence system uses innovative PVC coating and anti-corrosive technology.
When looking at various different factors, it is clear to see that metal fencing comes out on top as an obvious winner!
Are you looking to purchase EasyView fence posts and their PVC-coated metal fencing? Here at Betafence SA, we supply all the EasyView components you need to install your metal fence yourself. Enjoy all the benefits that metal fences have to offer, and order today!