News
5 Ways To Make Your Fence More Attractive
Mar 08, 2023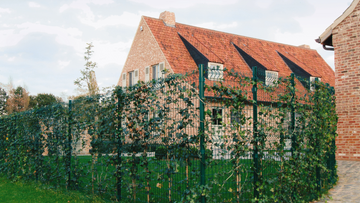 Although fences are typically intended as purely functional ‒ to mark a boundary and offer security ‒ it does not mean that you can't make them beautiful and attractive as well. After all, well-kept panel fences that are not only in good condition but also lovely to look at provide a great way to improve the likelihood of selling your home quickly at a good price.
Here are five ways to make your fence more aesthetically pleasing.
1. Add Raised Beds
Raised flower beds are a simple yet elegant solution to beautify your fence. There are various ways you could install raised beds on a budget, such as using cheap pallet wood to create bed retaining walls or purchasing and installing low-cost wood flower boxes to put along the fence.
Depending on what you plant, they will climb the fence and add aesthetic appeal without much effort or cost required on your part.
2. Add artificial foliage
Can we add something here about adding artificial foliage to you fence? That will then tie in nicely to the upcoming launch of EasyIvy. We can be general, and not mention EasyIvy specifically. Something like add instant greenery to your fence / maintenance free / no watering needed / green all year round …
3. Add A Trellis Or Two
Trellises are another excellent, affordable option for not only beautifying your fence but also for creating a bit of privacy and screening. You can get trellises in all shapes and sizes, made from a wide range of materials and at different prices.
These simple structures can be easily added to your fence to allow for creeping and trailing plants to grow up them and create a lush look.
4. 

Light It Up

If you want your fence to also look amazing at night, battery- or solar-powered outdoor fairy lights can be easily woven into your fence. Various kinds of string lights could be experimented with, with different colours and differently sized bulbs providing much variety to choose from.

Lights could also add a layer of security as they will illuminate the fence at night, making it easier to spot any attempted incursions.
5. Make A Vertical Garden
You could also turn your fence into a green living wall by hanging various pot plants and flower boxes from the fence in carefully thought-out arrangements. This allows you more control than simply growing creeping plants on trellises, although it does require a bit more effort. Also, you need to be careful in how you distribute the weight so that you don't overburden the fence.
At Betafence, our Easy View panel fences provide not only extra security but also an opportunity to improve your home. Contact us today to find out more about the fencing options that are right for you.