News
Introducing the Betafence EasyView Range
Mar 09, 2022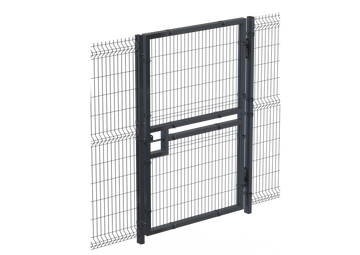 The Betafence EasyView range includes a selection of premium quality mesh panels and posts. This range is ideal for residential, commercial and industrial premises. With a modern, minimal design, the fences provide unobstructed views. This not only helps to enhance space and light - but also improves security. Cameras will have a full vision range, without the risk of potential access points being blocked by walls or solid fences. Made from PVC-coated welded mesh, EasyView fencing panels and gates are long-lasting and durable. 
Betafence EasyView Range
Products in the EasyView range include panels, posts and gates. Fixators are also available in the Betafence South Africa store.
EasyView Panels
These easy to install panels are lightweight yet tough. They have a unique design that features a barbed top, making them harder to climb. They are available in two heights - 1.14 metres and 1.71 metres. They can be installed with minimal expertise or with the help of our installation partners who operate across the country. EasyView panels can be used as boundary fencing or partitioning. As they are sold individually, fencing can be installed on slopes for graduated perimeters. 
EasyView Posts
EasyView posts are designed to secure and support panels. They are made of pre-galvanised steel and polyester-coated to ensure maximum durability and longevity. They are corrosion-resistant, making them ideal for all climates across the country. With no pre-drilled holes, they are easy to install even with minimal DIY experience. Posts are made for each size of the panel, with heights of 1.6 metres and 2.1 metres. Fixators are used to secure the posts to panels and gates. 
EasyView Gates
Designed to fit between panels, EasyView gates provide a seamless look to perimeter fences. Like the panels and posts, they are polyester-coated, corrosion-resistant and long-lasting. They have a minimal design that allows for full visibility. Gates are available in 1.10 metres or 1.71 metres in height, with a width of 1.23 metres. They are easy to install and the perimeter 1.71m gates can be locked using standard locks. 
Shop the full range of EasyView products at Betafence and see why this range is the gold standard in quality and innovative design.